About Luise Guest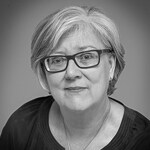 Dr Luise Guest is an independent researcher, writer and curator based in Sydney. Her writing has been published in The Australian and New Zealand Journal of Art, The Journal of Chinese Contemporary Art, Australasian Art Monthly, Artist Profile, Yishu Journal, Ran Dian and CoBo Social. Her focus for many years has been on contemporary art in/from China, however her research interests include the contemporary art of the Asia Pacific region more broadly.
Geng Xue's solo exhibition is now on at Vermilion Art. The exhibition review by Dr Luise Guest is featured in Garland Magazine.
Strange tales from a Chinese studio: Geng Xue's porcelain imaginary
"For Luise Guest, the surreal porcelain of Geng Xue is inspired by the rich history of Chinese imaginary.
Chinese artist Geng Xue's (耿雪) solo exhibition at Sydney's Vermilion Art—her first in the southern hemisphere—transforms the gallery space from the conventional western white cube into something resembling an eighteenth-century cabinet of curiosity or wunderkammer. These were sometimes elaborately inlaid cabinets of secret drawers and shelves and sometimes entire rooms in which wealthy aristocrats displayed precious objects ranging from objets d'art to coral, seashells and even taxidermied animals. At Vermilion, the black-framed architectural display cases are filled with the delicate blue and white porcelain sculptures for which Geng Xue has become internationally renowned, reflected in a mirror-like surface. However, despite its nod to the conventions of massed museum displays of Chinese porcelain, her exhibition creates an uncanny atmosphere in which nothing is quite what it seems. "I just want to create a kind of illusion," she says in the video trailer for the exhibition.
Geng's fantastical cups, bowls, vases and teapots reference Chinese tradition, but they are often perforated with holes or cracks from which tentacle-like appendages emerge. Some objects are suspended from above, even resembling broken shards. Human figures mutate into serpents or mythical beasts, while tiny naked people and animals emerge from teapots, or perch on top of vases and scholar rocks. Their uninhibitedly erotic encounters are mirrored upside down in the shiny base of the vitrine. We are through the looking glass, it seems, gazing voyeuristically into a strange parallel world where humans frolic with flora and fauna. It is as if Hieronymus Bosch's medieval fantasy of pleasure and punishment, The Garden of Earthly Delights, was re-made in porcelain.
Geng Xue is deeply engaged with Chinese traditions of porcelain, but she reinvents and transforms its historical form, expanding the possibilities of the medium in order to express a very personal imaginary, continuing her exploration of themes of love and desire – and their cruel obverse. In light of the current artworld reconsideration of women artists' contribution to Surrealism, Geng's inventive imagery suggests some similarities and also some contrasts1.Geng's work, like that of the Surrealists, may appear to spring straight from dreams, desires and the unconscious mind, but in reality, her working process is deliberate and strategic, often referencing Chinese fables and classical literature, and her mastery of porcelain pays deliberate homage to China's long history.
Porcelain was described in a 1917 poem by Lyon Sharman as "hard as jade, sweet-toned as a bell". It is paradoxically extremely fragile and surprisingly strong. With its associations with luxury and wealth, Chinese porcelain is often identified as the world's first truly global "brand". From the early fourteenth century, blue and white porcelain made its way from the imperial kilns in the ancient porcelain city of Jingdezhen via the Silk Road to the Middle East, to the ports of Canton, and thence across southeast Asia and onwards to Europe. Made possible by the export of cobalt from Persia, the blue and white porcelain associated with the Ming Dynasty that Geng Xue references in this body of work became an enduring symbol of Chineseness. Geng, who lives and works in Beijing, makes regular trips to Jingdezhen to make work in situ. She has made a study of ancient ceramics and paintings in museums and archaeological sites including Dunhuang, Xi'an, Luoyang, Jingdezhen and the Longquan celadon kilns. Her subjects generally emerge from Chinese classical literature or Buddhist texts: "All these stories are the artery of Chinese history," she told me when we met in Beijing some years ago.
After graduating with her undergraduate degree, Geng Xue studied video production in Germany in 2013 before returning to complete her MFA at the prestigious Central Academy of Fine Arts in Beijing. She uses techniques of stop-motion animation to bring her porcelain world to life, creating ambiguous narratives that are both beautiful and disturbing. In addition to her porcelain sculptures, the exhibition at Vermilion is a welcome opportunity to see the videos for which she has become internationally admired, including Mr Sea, previously shown at White Rabbit Gallery; The Poetry of Michelangelo, also shown at White Rabbit and at the 21st Biennale of Sydney in 2018; and The Name of Gold, shown at the 57th Venice Biennale in 2019. In their different ways, each explores the often-traumatic relationships between humans, and between human beings and the world/s they have created. Geng is interested in power dynamics, in how humans self-sabotage and seek wealth or control rather than happiness; her work presents us with poetic visual metaphors that unfold to create multiple associations and interpretations. A series of mixed media paintings shown together with the video and porcelain works provides new insights into her working process, illuminating the spooky, fairy-tale atmosphere she created in the animation of Mr Sea.
A favourite of mine that I first encountered in an exhibition in Shanghai in 2015, Mr Sea was inspired by a tale from Pu Songling's Liaozhai Zhiyi (translated as 'Strange Stories from a Chinese Studio')2., an extraordinary seventeenth-century collection of fables featuring ghosts, goblins, fox spirits and snake demons among its cast of characters. It's a violent and erotic tale of a hapless scholar who, marooned on a deserted island, encounters a beautiful girl who is not quite who she appears to be. In Mr Sea, her protagonists—jointed porcelain puppets with blank faces—move through a magical landscape of shifting light and coral-like clattering tree branches. The erotic encounter between the two characters is punctuated by the chiming sounds of porcelain hands touching porcelain bodies. The violent and bloody denouement features the terrifying Mr Sea, a segmented snake demon. Mr Sea is a visual delight; the moody lighting renders its pearlescent porcelain surfaces almost liquid at times. It is as if everything is happening underwater, or in a dream. In my earlier interview with Geng Xue in Beijing, I had asked why she chose this ancient allegory of doomed love. "I think that what you desire and what you fear are just the same, and the things you desire can even destroy you," she said.
Geng Xue's works mix humour and tragedy, fantasy and reality, tradition and contemporaneity. Intriguing and unsettling, they require us to reconsider those almost-clichéd traditions of blue and white porcelain in a new light, seeing it anew as a medium capable of exploring contemporary ideas about our dreams and desires, our capacity for self-delusion and our very human fallibility."